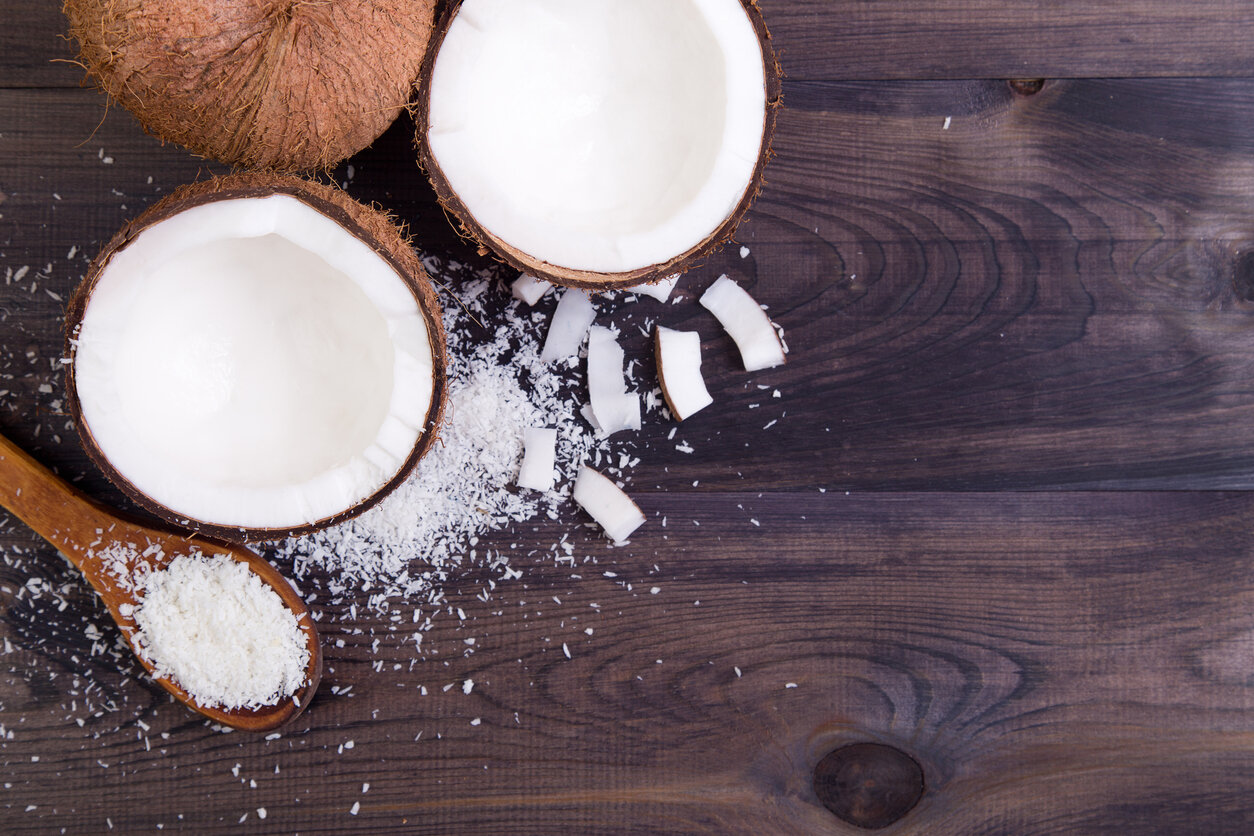 What is Monolaurin?
Monolaurin (also known as glycerol monolaurate) is a medium chain fatty acid formed from lauric acid. It is made from coconut, but also found naturally in mother's breast milk. Monolaurin is commonly used in food production and as a dietary supplement.
Is Monolaurin Safe?
Monolaurin is included on the FDA's Generally Recognized As Safe (GRAS) list and is already widely used in food manufacturing today. Monolaurin occurs naturally in mother's breast milk and is manufactured for commercial use from coconut oil.
Why Take Monolaurin?
Some people choose to take Monolaurin as a dietary supplement for general health. Monolaurin can be taken in addition to other daily supplements to support digestive and overall health.
Is Natural Cure Labs formula safe?
Our premium raw ingredients are sourced from trusted providers with long-standing relationships. All ingredients come with a certificate of analysis, and we perform our own in-house testing to ensure purity of the product and that it contains no microbial, yeast, bacteria, mold, heavy metals, or other foreign agents. Our capsules are manufactured in the USA in an FDA registered and GMP certified state-of-the-art facility, and we have produced and distributed over one million monolaurin capsules to happy customers around the world. Purity and safety is a top priority at Natural Cure Labs.
How is Natural Cure Labs Monolaurin different?
Natural Cure Labs is 100% vegetarian and natural. We are the only manufacturer to offer a capsule free of additives such as Magnesium Stearate (which may slow absorption and disrupt digestion), or other fillers or supplements (such as Silica, Inosine, Calcium, or Gelatin). Our product is purpose-made for supporting a healthy immune system and offers the highest quality and purity.
Is Natural Cure Labs Monolaurin vegetarian?
Natural Cure Labs monolaurin is 100% vegetarian and uses veggie capsules (NOT gelatin!)
What type of veggie capsule is used, and what is the source of the plant cellulose?
Natural Cure Labs uses vegetarian Hypromellose (HPMC) capsules, manufactured by Capsugel. Hypromellose is a cellulose material derived from plant sources - in this case, softwood trees like pine. The pine trees are grown and harvested in the southeastern United States and can include Longleaf pine, Slash pine, Shortleaf pine, and Loblolly pine.
Does Natural Cure Labs Monolaurin contain anything besides the key ingredient?
Natural Cure Labs monolaurin does not contain any artificial colors, preservatives, flavorings, sugar, wheat, yeast, corn, gluten, soy, dairy, etc. Natural Cure Labs brand uses only monolaurin and may contain a small amount natural organic rice flour essential to the manufacturing process.
What is the suggested dose?
Monolaurin can be safely and effectively taken in a range of doses. The recommended dose is 1 -3 capsules 2 - 3 times daily (1800mg to 5400mg), but some customers have had success with even higher doses. You should consult your healthcare provider for dosing guidance.
Can children or kids take Monolaurin?
Clinical research and guidance does not include children, and therefore the safety and efficacy is unknown. It is not recommended to give Monolaurin to children.
How large are the capsules?
Natural Cure Labs brand premium Monolaurin 600mg vegetarian capsules come in industry standard "00" size capsules. These capsules are approximately 20mm (0.8 inch) long and 8mm (0.3 inch) wide - about the size of a Tylenol Extra Strength caplet. If you have difficulty swallowing pills, the capsules may be separated and the powder taken with applesauce, pudding, etc. but be careful - the taste is very bitter / "soapy". Many people are unable to get past the extremely bad taste of the raw ingredient ad we do not recommend taking the powder outside the capsule.
Why do some capsules appear partially filled or have air in them?
Natural Cure Labs uses a certified organic rice powder to prevent caking and ensure a uniform fill for the capsules. This rice powder is super fine and may create some air space during the manufacturing process. Each complete capsule is weighed to ensure there is a minimum of 600mg of monolaurin and the finished product weight is above 760mg to ensure proper dosage (average weight of capsule is 777mg). A good analogy might be a bag of potato chips: filled by weight, not by volume, and settling is expected over time.
Why does the powder or capsule appear have a tan or brown color?
Because Natural Cure Labs supplement formulas do not use synthetic anti-caking agents like magnesium stearate or silica, we use either organic rice power (which is white) or organic rice bran (which is brown). The brown color is completely normal and does not affect quality or efficacy of the product. The vegetarian capsule shells are made of vegetable cellulose which naturally have a slightly tan / brown color (which is also completely normal and expected).
Why does Monolaurin smell sour?
Monolaurin naturally has a sour / acidic smell - similar to yogurt, vinegar, or some have even said Elmer's Glue. This is natural and does not effect the safety of the product. Some monolaurin batches may smell stronger than others, but there is no relationship to smell and efficacy or freshness.
How should I take Natural Cure Labs Monolaurin?
Monolaurin is naturally made from coconut or palm kernel oil and is not shown to interact with other food or supplements. It may be taken with or without food and with a variety of beverages including warm or cool water, juice, and dairy.
Does extreme heat or cold effect Monolaurin?
Monolaurin is a very hardy product, and extreme temperatures found in normal everyday situations - ex: cold which a checked bag may experience on an airplane, or the heat a package may experience in a mailbox on a sunny day - will not harm the product. The official flash point as listed on the monolaurin Certificate of Analysis is +200 degree Fahrenheit (93.3 Celsius).
Why don't I just take coconut oil?
Coconut oil contains around 40 to 50% of the medium chain fatty acid Lauric Acid, and may require many spoonfuls to achieve one dose. Some people find this unpleasant or inconvenient. Natural Cure Labs monolaurin (when encapsulated) has no taste, no smell, and is 100% pure monolaurin from coconuts. It is highly portable and can be taken on the go with a variety of foods and beverages. Natural Cure Labs Monolaurin is vegetarian and delivers all the benefit of lauric acid without the need to take so much oil.
Where is Natural Cure Labs Monolaurin made?
We proudly formulate, blend, encapsulate, and bottle our monolaurin in the USA in a state-of-the-art federally registered and GMP certified facility using ingredients sourced in the USA and globally from trusted suppliers. Quality and purity is our top concern.
Why does the label say "Made in USA" with global materials?
The label was updated to reflect guidance from our lawyers. Depending on the batch, the capsule might be sourced from Canada or the plastic lid from China, for example. All manufacturing, testing, formulation, and analysis is completed in the USA.
How is Natural Cure Labs Monolaurin tested for quality?
All ingredients come with a certificate of analysis, and we perform our own in-house testing to ensure purity of the product and that it contains no microbial elements, yeast, bacteria, mold, heavy metals, or other foreign agents. Additional samples are sent to a separate 3rd party lab to confirm in-house tests. We pride ourselves in premium quality and purity.
Can Monolaurin cause the "Herxheimer Reaction"?
The Herxheimer Reaction occurs when bacteria, viruses, fungi, begin to die off and release their endotoxins and lipoproteins into the body faster than they can be removed. It can cause a sickness that is ironically similar to the flu, including body aches, headaches and sluggishness. This feeling is temporary and can be avoided by a slow introduction of a supplement or medicine. This does not indicate or suggest that monolaurin may cause a "Herxheimer Reaction".