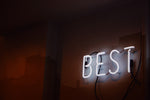 Independent Health Website "Health Cares" Ranks Natural Cure Labs Products at the Top
When searching for dietary supplements, it is sometimes difficult to navigate the many choices, literature, and feedback. Independent website Health Cares aims to support some consumer decisions by providing a comprehensive "Buyer's Guide" for select dietary supplements. 
In the guide "The Best Lysine Supplements For Muscle Growth And Repair", the company explores some of the considerations when choosing an L-Lysine supplement including the product's potential benefits, side effects, and important decision factors. In this list, Natural Cure Labs' Clean L-Lysine product was ranked as one of the best lysine supplements on the list. 
Natural Cure Labs Clean L-Lysine lives up to its name with a deliberate "clean label" formula. The product contains just three ingredients - plant derived L-Lysine HCl, a plant-based capsule, and natural rice powder as an essential part of the manufacturing process. Unlike other formulas, the product contains no synthetic fillers, artificial preservatives, flavorings, or colorings. The product is the perfect complement to other supplements like Monolaurin. 
Natural Cure Labs Thyroid Support was also ranked #3 on the company's list of thyroid health supplements. Thyroid Support features in innovative dual delivery capsule which combines liquid and power ingredients providing efficient delivery and increased bioavailability. While most commercial thyroid-focused formulas are identical, this one deliberately omits potentially unsafe ingredients such as kelp and iodine in favor of science-based alternatives like L-Tyrosine and Inositol. 
Finally, Elderberry Immune Complex was ranked #2 on the website's list for Best Elderberry Supplements. This blend features a potent 10:1 elderberry extract and 100% or more of the recommended daily value of key immune support ingredients including Vitamin C, Vitamin D, and Zinc. This product was developed and launched in response to consumer's enthusiasm and strong demand for elderberry products in 2020. 
Like all Natural Cure Labs products, Clean L-Lysine ,Thyroid Support, and Elderberry Immune Complex are vegan friendly, non-GMO, gluten free, and manufactured in the USA under GMP (Good Manufacturing Practice) guidelines. Natural Cure Labs aims to produce research-based and trusted dietary supplements for customers looking for the exceptional quality.