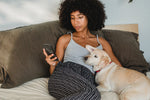 Award-winning Dietary Supplement Company Re-Launches Web Experience to Support Growing Customer Base
ST. PETERSBURG, Fla., Jan. 8, 2021 -- In response to growing consumer interest, dietary supplement company Natural Cure Labs has completely redeveloped their web experience to support new and existing customers. The enhanced website experience features an entirely new platform with optimized navigation, product collections, personalized customer accounts, with upgraded shipping rates and speeds.
Consumer shopping habits and expectations are rapidly changing, driven largely by a desire for more flexibility and choice during periods of restricted mobility. These changes are reflected in the explosive growth of ecommerce – up 37% in Q3 2020 totaling $199 Billion in sales the United States. 2020 overall saw an 18.1% increase in online shopping and an outstanding 34% ecommerce penetration in North America, representing 10 years' growth in just three months according to a McKinsey report.
The benefits of ecommerce are clear - around the clock availability, competitive prices, convenience, and home delivery. With Natural Cure Labs' new platform, the company is delivering just that. The new web experience offers speed, safety, and selection for customers looking to gain direct access to the company's award-winning portfolio of natural products.
The new web experience boasts a personalized account space for customers to track orders, view order history, store shipping and payment details, and enable fast and seamless checkout. The site also offers enhanced shipping options which support standard and express shipping speeds, along with free standard shipping for all orders above $30.00.
To support the rapidly growing community of practitioners, naturopaths, and wellness enthusiasts, Natural Cure Labs has also enabled customers to earn rewards through referrals to friends and family. Though this affiliate program, Natural Cure Labs customers can earn 12% commission on all products sold through personalized links.
In addition to these platform features, Natural Cure Labs will continue to support customers through an informative newsletter, monthly discounts, 24/7 customer service, and select wholesale opportunities.
Featuring a robust lineup of immune support supplements, Natural Cure Labs is best known for their Monolaurin products. Monolaurin is a dietary supplement formed from lauric acid – a medium chain fatty acid found in coconut oil. Monolaurin, along with all products under the Natural Cure labs brand, is naturally sourced, vegan, gluten free, non-GMO, and formulated in the USA.
Looking to the year ahead and beyond, Natural Cure Labs is committed to supporting customers and their access to quality dietary supplements in the format and location of their preference.