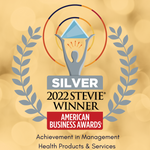 The Company received their fourth Stevie Award for the third consecutive year, demonstrating unwavering quality and excellence
Natural Cure Labs LLC was named the winner of a Silver Stevie® Award in the Management category in The 20th Annual American Business Awards, the USA's premier business awards program.
Natural Cure Labs LLC, operating under Palmara Health and VitaTails brand supplements, has received four Stevie Awards including Company of the Year, Product Development Executive of the Year, and now Achievement in Management – Health Products & Services. This year's recognition marks the third year in a row the company has received an American Business Award, highlighting its ability to consistently deliver outstanding value and quality to its customers.
"We are thrilled to receive this recognition for a third year," said company's founder and CEO. "Our mission to deliver amazing supplements based on research continues to differentiate our products to consumers and awarding bodies alike. The company's commitment to quality, safety, and trust is foundational to our operations and these attributes were reflected and acknowledged in this year's award. We are humbled by this recognition which further motivates us to best serve our community and consumers."
Natural Cure Labs produces immune-focused dietary supplements for both people and pets. Their flagship monolaurin product, a supplement derived from lauric acid, has been enjoyed by thousands of customers since 2015. The company's monolaurin product line now boasts several variants including a combination product with L-Lysine and an "Extra Strength" 800mg product. All products in the Natural Cure Labs and Palmara Health lines are proudly vegan, non-GMO, and gluten free.
Formal industry recognition is not new to Natural Cure Labs LLC. Previous awards have included "Health & Wellness Nutrition Manufacturer of the Year" in the 2021 Innovation & Excellence Awards, "Best Natural Products Manufacturer – USA" in the 2021 Global 100, and "10 Best Companies of the Year 2021" by The Chief's Digest, among others.
Natural Cure Labs, Palmara Health, and VitaTails brands remain steadfast in their commitment to providing quality supplements to support healthy people and pets around the world. The company's products can be found through their website and most major online marketplaces.
Founded in 2015, Natural Cure Labs LLC, operating under Palmara Health and VitaTails brands, is an award-winning manufacturer of dietary supplements. The company is committed to producing responsible, trustworthy, and quality supplements that enable individuals to live a healthy and fulfilling lifestyle. To learn more about Natural Cure Labs' dedication to quality and research, please visit https://www.naturalcurelabs.com/