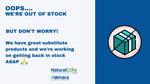 Temporarily Out of Stock: Extra Strength Monolaurin and L-lysine + Monolaurin
We are working as quickly as we can to get these two popular products back on shelves as quickly as possible. 
We understand this is an inconvenience for the loyal customers who trust and rely on these products as part of their health routine. We sincerely apologize for the disruption and thank you for your patience as we work to get these products back in stock.
In the meantime, we recommend the following substitutes which provide the same quality ingredients at surprisingly competitive prices per serving: 
Extra Strength Monolaurin
L-Lysine + Monolaurin
Additionally, we're offering a 10% discount only if you bundle both Clean L-lysine and 600mg Monolaurin - no code required.
Click here to buy Clean L-Lysine
Click here to buy 600mg Monolaurin
As soon as the items are back in-stock customers will be notified via email, so make sure you're subscribed to our mailing list