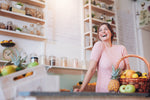 Natural Cure Labs Has Been Generating Buzz from Both Customers and Industry Experts
ST. PETERSBURG, Fla., June 22, 2020 /PRNewswire/ -- After years of successful online sales and a dedicated customer following, Natural Cure Labs is expanding their company's online and in-store selling potential.
Natural Cure Labs began as a passion project, dedicated to providing customers with the best nutritional supplements, coupled with a clear breakdown of their ingredients and sources.
Natural Cure Labs sells a variety of supplements, both liquid and capsules, including multivitamins with synergistic ingredient combinations like Immune Support, and Biofilm, but they also offer a few pure extracts, like L-lysine and the exceedingly popular supplement, Monolaurin.
Monolaurin is the supplement form of the compound Lauric Acid, a naturally occurring medium chain fatty acid that is usually derived from coconut oil. Though Monolaurin can be derived from other sources, coconut oil provides some of the highest concentrations of lauric acid and may not have the same environmental impacts as other sources, like palm kernel. In recent years, Monolaurin has been studied for a variety of health benefits, and it has grown immensely in its popularity as a daily supplement.
Natural Cure Labs says they noted an unfilled niche in the health market, for people who needed affordable and accessible wellness but wanted to guarantee the highest quality in their supplementation options. With the supplement market on an unprecedented upswing, showing growth potential as high as five billion dollars over the next five years, too often there is an abundance of supplements being released with little to no scientific backing.
One of the most impactful aspects of Natural Cure Lab's brand is that they prioritize peer-reviewed research as a fundamental part of their development process. All of their ingredients are researched individually, and sourced with care, from within the United States whenever possible.
Commitment to quality and transparency has made them a standout brand in their field, garnering recognition from prestigious industry competitions. Natural Cure Labs was recently awarded a Gold "Stevie ®" award as "Company of the Year" in the Health Products & Services category, as well as a Bronze award for "Product Development Executive of the Year" during the 2020 American Business Awards.  
But proof of the company's hard work has also been evident in their customer response. Since their inception, Natural Cure Labs has doubled their production in response to the high level of customer demand.
The future looks bright for this up and coming brand on the move. Look for them as they expand their online and in-store retail presence throughout 2020.
Natural Cure Labs is an award-winning manufacturer of dietary supplements. The company is committed to producing responsible, trustworthy, and quality supplements that enable individuals to live a healthy and fulfilling lifestyle. The immune-focused formulas are manufactured in the USA using premium vegan and non-GMO ingredients based on published medical literature. To learn more about Natural Cure Labs' dedication to quality and research, please visit https://www.naturalcurelabs.com/.
Please direct inquiries to:
Yvon Wainwright
(954) 738-2297
242068@email4pr.com
See Original Post: https://www.prnewswire.com/news-releases/supplemental-health-company-natural-cure-labs-is-going-places-301079998.html